Our young makers have grown with us and help us to introduce new youngsters to the power of making. We address a void in k-12 schools, particularly at the elementary school level where teachers can be unfamiliar with the true landscape and potential of science, technology, engineering, art and math (STEAM) to elevate learning. We begin with familiar activities and materials, such as building with LEGOs, and quickly advance onto more complex engineering and programming skills including robotics. Makeosity extends the reach of STEAM across the school day to learners who are seeking alternative, more direct routes, to support their interests and aspirations, including and importantly to those disengaged with traditional education. Our mantra, make your future today, is about the power and potential of new technologies to transform lives. Soon we will reach more young people directly online with our experiential learning environments.
Below are just a few projects in the works by our talented young people who not only create, but also help to manage and guide the direction of the company.
Makeosity Energy Scooter
The energy scooter project began in PS 107 in the Bronx, NY and has been championed primarily by two young female students now in High School.  The students wanted to create a product that would motivate more students to get out and exercise so they designed a scooter that generates electricity when it's foot-peddled to charge handheld devices. Kids are motivated to go outside and have fun, while staying charged and connected to their friends. With the guidance of Erica Nwanwko of Autodesk over Skype, the girls learned how to use Autodesk Fusion 360 to model parts of the scooter (e.g. the handle bars and deck) and to design the actual energy generating device to be both compact and portable. With pro bono support of Brooklyn Law School we have secured a patent for the portable charger and are completing the product for market.
Makeosity Experiential Learning Environment (ELE)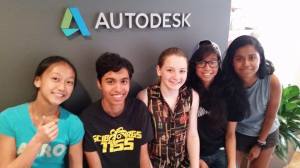 Our teenage developers and game designers created a proof of concept of an experiential learning environment for our own use and for the Global Learning XPrize of a new way to learn through something as old and natural as the universe…play. Our experiential learning environments are infinite because anyone will be able contribute an experience to the platform through a simple mod builder. Participants are engaged in challenges that build their design thinking and engineering chops through play and gaming.  Elements:  Experiential environments, terrains, wormholes, galaxies, multiverse, parallel universe, you name it (flat, 2D, 3D, augmented, virtual reality) contributed by young designers (ages 9-99).
Games for Change
Hundreds of young makers across the Bronx competed in a competition to design games that engage children in science and teach 3rd and 4th graders about animal habitats, adaptations, predators and prey. Frog Hoops was voted the hands down winner by hundreds of the game developers peers. The boys were treated to a Skype conference with Ansul Samar, creator of Elementeo, when he was in elementary school. Anshul is now at Stanford University working with the self-driving car team. We are offering up a print version of their game on our market and plan to create a digital version of it in the future.
NYCDOE FaceLab
We have launched a pilot program with the NYCDOE Division of Family and Community Engagement to immerse parents in STEAM education and have created a robotics program that brings them directly into classrooms as facilitators. Parents are learning how to build, program and integrate robotics with schools curriculum and working with teachers to introduce robotics to students.